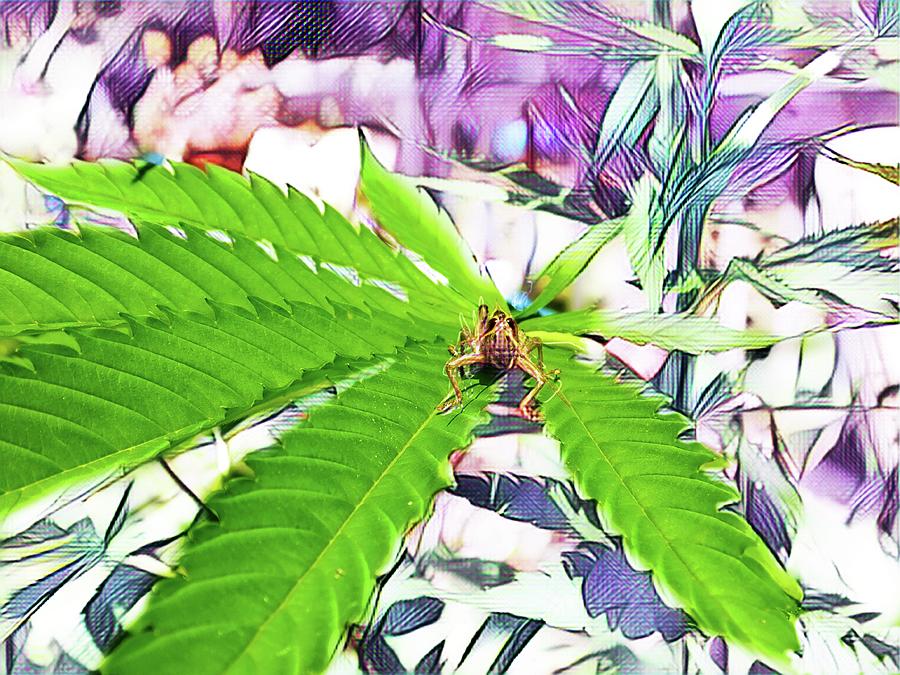 Medium
Photograph - Photo / Digital Art
Description
One bright & sunny summer day I was out watering my plants when a Grasshopper jumped onto a leaf. Staring up at me with a grumpy little voice, he said "Hey - which way to the vegetable garden?
I knew right away a grasshopper could be big trouble! If this little dude took even one bite of a cannabis plant, he'd be hooked. My imagination ran wild! I had to think fast to protect my seedlings & save my plants! I visualized millions of grasshoppers swarming the crop - devouring these tasty plants like locusts in a Si-Fi movie. So I got to work.
Grasshoppers hate the taste & smell of garlic which I grow a lot of - so I crushed up a bunch of fresh garlic cloves & mixed it in a spray bottle with mineral oil (cause it coats better than water) To make sure it was strong, I let it sit through the night & started on my backup plan. An All Purpose Flour dusting would do the job. It wouldn't take long for the flour to gum up in our grasshopper's mouth - and hopefully he would hop far far away.
I was up & out first thing next morning. I didn't see the little guy but I figured he might have chewed a leaf or two and slept in - so It was now or never!
I never did see the grasshopper again - nor did I see any others.The plants grew very full & way tall. The buds were sticky sweet by late summer & ready for harvest by the Fall Equinox. Crisis averted!
I think back every now and again to the early summer day we dodged a bullet & saved the cannabis crop. It's the day a grasshopper hopped into my life, taking a moment to pose for this shot before he hopped out for ever.
The End.

Uploaded
February 3rd, 2021
Statistics
Viewed 6 Times - Last Visitor from New York, NY on 02/11/2021 at 7:24 PM